Please Donate
02.05.2017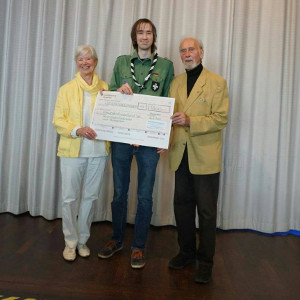 Please Donate: "Construyendo puentes de amistad a Matagalpa – Bridges of Friendship to Matagalpa"
We would like to enable a small group of young scouts (mixed group, aged 14-16, at least 2 participants and one leader) from Nicaragua to take part in our whitsun camp. The camp takes place on the whitsun weekend (June 2 to 5, 2017). The whitsun camp represents the foundation of our work. On sunday evening, our traditional promise celebration will take place, which means a lot to us. An invitation to this event proves our deep trust and friendship to our scout friends from Nicaragua.
The trigger for the project was an exceptional distirbution of funds by the charity foundation Siegfried und Christa Wirtz Stiftung. We already collected funds for two scouts, but now we need you to move on! Thanks a lot to the SCW foundation (the photo shows the cheque handover ceremony) and our supporters association.
You want to provide a unique memory for young people from our partner city Matagalpa? You support the idea of looking beyond one's own nose and to see what the world has to offer? You want to donate one Euro or another?
Donate with subject 'Nicaragua' to our supporters association.
If you have any questions or need further information, just send an e-mail to
Jamie Lee Harder
.
Thank your for your support!
---
Entered by Stefan